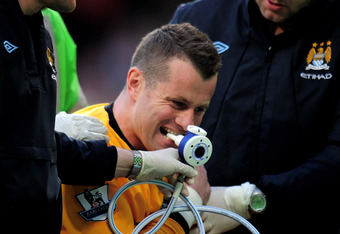 Shay Given the substitute goalie for city had sustained a shoulder injury which is likely to improve within three months.
"Shay has this problem in his shoulder and I think
he needs three months to recover," Mancini said.
"He has the same injury that he had last year and I think that he needs an operation."
"I am disappointed for him because we have lost a good goalkeeper," Mancini said.
"Last year we had the problem in the last three games because we lost him to injury and I hope this year it is not the same."
Joe hart being the main keeper of the side , Given was likely to be transferred this coming transfer season but seeing him getting his injury again it is likely that he might have to retire.
He would be eyeing another club in the transfer season as he is not getting his chance in City but seeing his condition no team would buy him any he would have to stay with City for probably another season or might move down to a lower club in England.